What is the risk-to-reward ratio of investing in Indian Football? Anybody who has basic knowledge about the game in India knows that it will be high. Investment in Indian football practically never provides any financial gain and more often than not, it is stressful as well due to the corrupt state and national football associations. However, Indian football is thriving despite all these odds because of numerous fantastic human beings who devote their time and money to the betterment of the game in India. One such man from the Kasaragod district of Kerala grabbed media attention recently when his players signed for Kerala Blasters Women's team.
The last couple of months has been satisfying for Nidhish. He is finally happy that his initiative – Women's Football Clinic, Bengalam- is getting much-needed attention from the media and football lovers. Women's Football Clinic, a football coaching program for girls, was commenced in the year 2013 and the graduates have represented state and national teams across various age groups. 6 players who trained under him – Anjitha, Arya Sree, Arathy, Aswathy, Malavika, and Krishnapriya, played for Kerala Blasters in the 2022-2023 Kerala Women's League.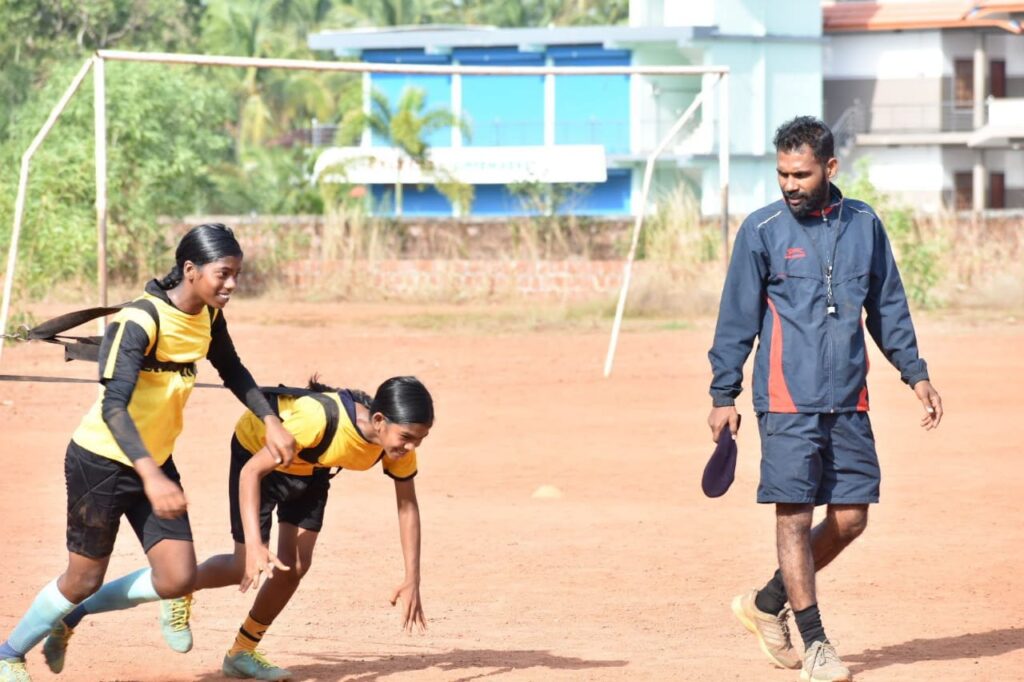 "My players have been working hard for 10 years and had won multiple accolades. Nevertheless, no one paid attention. When they signed up for Kerala Blasters, people started to notice our program. That is the impact of Kerala Blasters", said Nidhish.  
Nidhish, who himself was a football player, is currently working as a clerk in Kerala government services and he provides football coaching for girls every day without even charging a penny. During his days as a player, under his tutelage, Kasaragod won the state championship in 2013 and he was subsequently selected for the Santosh trophy camp. Unfortunately, he couldn't secure a place in the final squad and he decided to achieve that dream through his students. He had played against former Indian National team player Vineeth CK during his college days and has trained current North East United FC goalkeeper Mirshad.
"I understood that my prime age was over. However, I wanted my players to reach that level which I couldn't reach as a player", Nidhish continued.
He conducts his training sessions at the playground of the Government Higher Secondary School, Kakkatt. He is a holder of an AIFF D License. He started his coaching journey in 2008 by conducting football camps for boys in his locality. Later on, he included girls also in his training routine. Currently, he provides training only for girls as they stick with him for a long period, unlike boys who switch to other academies often. His players have represented all the age group state teams and have participated in international tournaments like the SAFF cup.
"The physical education teacher of Kakkatt school, Mrs. Preethimol (a.k.a Preethimol teacher) is our greatest strength. She is ready to accompany the team to any place for the tournaments. She has stayed away from her family for a month so that she could take the students to the football camps."
In the initial days, Nidhish used to buy the necessary equipment and jerseys by spending money from his own pocket. Despite proving their merit multiple times by winning medals and trophies, his initiative never received any financial assistance from any corner.
"Most of my players come from humble backgrounds. They cannot afford football boots or jerseys. Before securing the Kerala government job, I was a daily wage laborer. Still, I used to buy the necessary equipment so that the players can excel."
Even though the association with KBFC brought them the hype, it was totally a coincidence according to Nidhish.
"Rizwan (KBFC women's team director) enquired about Anjitha and Aswathy. Malavika and Arya Sree were in at Kolkata that time for Khelo-India tournament. Malavika received offers from Lord's FA and Blasters, and Blasters management was unaware that Malavika was a graduate of the Women's Football Clinic. I told her to choose KBFC as she will get more attention from the media if she plays for Blasters. Then I suggested to him, Arya Sree. Krishnapriya and Arathy played for Travancore Royals last season and that is how they came into the radar of the KBFC scouts. Unlike the popular perception that I suggested all the players to the management, KBFC scouts found the necessary players through various sources and 6 of them happened to be my players."
Initially, people raised their eyebrows when Nidhish started his coaching sessions for girls. Many skeptics thought that this training program wouldn't survive for more than a few months as the program lacked sponsors. Nevertheless, Nidhish was determined to prove them wrong.
"Some people even went to the home of the girls and tried to brainwash their parents. However, the parents trusted me and I never gave any room for complaints. My girls don't call me sir or coach, they call me Etta (big brother). One of the players who is financially backward received government aid to build a house when she performed well at the national level. Whenever I see that house, I feel motivated to continue my initiative. Even if I stop coaching, that home will stand there as a testimonial to my hard work."
We talk about AFC Ajax and Southampton FC as the perfect examples of youth development in football. With one-tenth of their resources, Nidhish and Preethimol are producing excellent footballers who can excel at any level. Maybe, the other football academies of our country can learn a lesson or two from them.
Join the Whatsapp group of Athletic India to keep yourself updated about Indian Football.