After 72 matches in 48 days, we finally have our top five teams that will face off in the Hero I-League 2 final round.  19 teams started the group stage of the Hero I-League 2 campaign. Now we find ourselves down to the top 5 that will lock horns in order to secure promotion to the second tier of Indian Football, which is the Hero I-League. But before we get into what's in store for Ambernath United Atlanta FC, let us take a look at how they fared in the group stage.
Ambernath United Atlanta FC who were making their debut in the third tier of Indian Football which is Hero I-League 2 were pitted against ARA FC, Dempo SC, Goa Reserves, and Hyderabad Reserves in Group D.  It was going to be an uphill battle for Ambernath United Atlanta FC with four home and four away matches. Here's how the group stage played out for AUA FC
Phase 1: First four matches ( 2 home and 2 away)
Ambernath United Atlanta FC began their Hero I-League 2 campaign with two home games against Hyderabad Reserves from ISL and ARA FC. Both matches saw them go 1-0 down. Their opening match saw them come back from 1-0 down to win 2-1 with goals from Arif Shaikh and Abhijit Tawhare. After falling behind in the first half, Steven Dias' side showed the resilience to turn around the scoreline and seal their first three points.
Next up at the Cooperage stadium was the top side from Gujarat, ARA FC.  ARA FC were their toughest test in the Group and facing them early on at home was a chance for Ambernath United Atlanta FC to prove their credentials in challenging for the top spot in Group D. ARA FC started on the front foot and were rewarded on the stroke of halftime when they went ahead by 1-0. In yet another game, AUA FC had to chase the scoreline and they did just that. A stupendous free kick from Johnson Matthews proved to be the equalizing goal for AUA FC who held on to the 1-1 scoreline to earn a point.
With four points from the six available, Ambernath United Atlanta FC made a bright start to their Hero I-League 2 Campaign. One of the most important parts was the home crowd that came in numbers to support the home side at the Cooperage stadium in Colaba, Mumbai. Head Coach Steven Dias was full of praise describing the fans as the 12th man. With some much-needed momentum, Ambernath set out on their first away trip, a trip to Goa to face another heavyweight Dempo SC, and another ISL side Goa Reserves.
The away trip proved jittery for AUA FC as they managed to get only one point from a possible six in Goa. First a 3-3 draw against Goa Reserves and then a 2-1 loss to Dempo SC after being 1-0 up. Trailing 1-0 against Goa Reserves, goals from Himanshu Patil and Ashley Koli helped Ambernath turn around the scoreline to 2-1 but they were pegged by both the times they took the lead. Arif Shaikh scored in the second half to make it 3-2 but Goa Reserves pulled it back to 3-3.
Against Dempo SC, Ashley Koli's free kick put Ambernath United Atlanta FC in front. But two quick goals in the second half from Dempo SC handed them their first loss in two years since their inception. Such was the away matches where they picked up only a point from the possible six returning home from the final stretch of games to face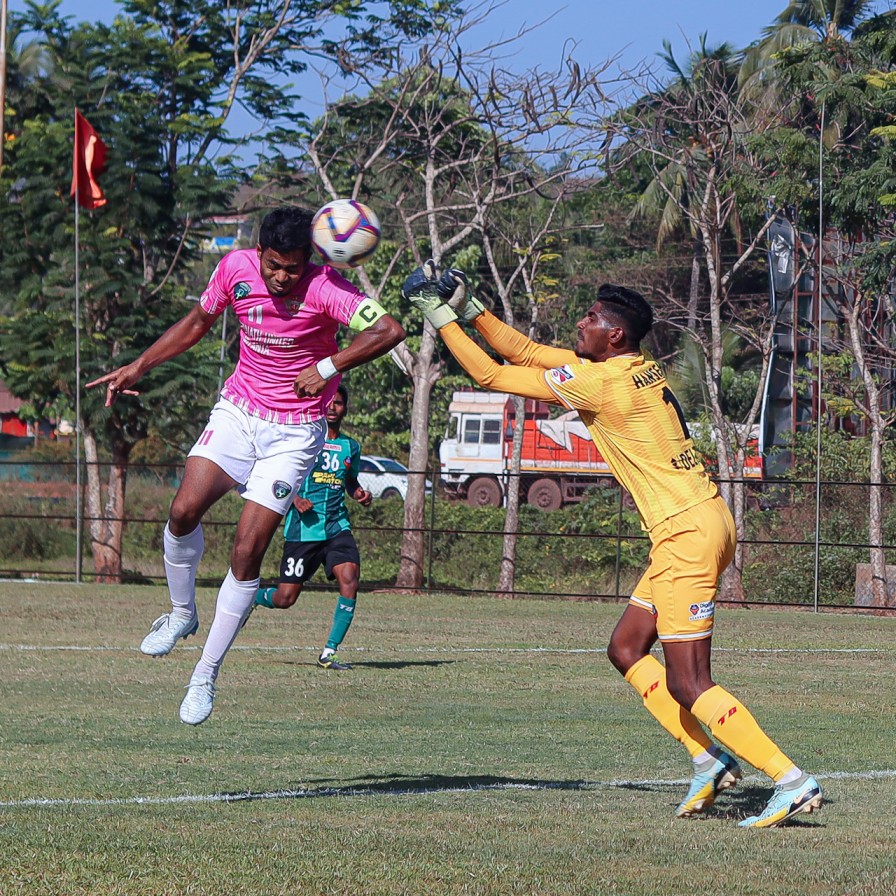 Phase 2: Final stretch of matches ( 2 home and 2 away)
The Cooperage stadium was always going to a fortress for Ambernath United Atlanta FC as teams who came here might have gone 1-0 up but were in for a blitzkrieg in the second half knowing the response from AUA FC was going to be fierce. This is exactly what they need from their next two home games.
First, a 2-0 win against Goa Reserves with goals from Shravan Shetty and Himanshu Patil saw them seal three points for the first since opening day. It was just their second win in five and took them to 8 points.  What followed was a thrilling 3-1 against Dempo SC.  Once again AUA FC went behind to a Dempo goal. There was everything to play for in the second half as Steven Dias' side rallied back with three quick goals. Shravan Shetty timed his run to perfection to score the equalizer from the end of a Johnson Matthew free kick into the box. Himanshu Patil made it 2-1 after a breathtaking run from Arif to cut it back for the captain. Arif Shaikh got on the end of a one-two with Abhijit to make it 3-1. The Cooperage was buzzing as they had seen the home side earn six out of six points.
This is where the season got back on track as Ambernath United Atlanta FC went from 5 points in four matches to 11 points from six matches and went level with ARA FC with a match played more. With the final two group matches left away from home, AUA FC were once again buoyed with confidence that they could make it through as group D winners.
The first hurdle was cleared comfortably as they dispatched Hyderabad Reserves with a 3-0 scoreline. A brace from Adil Khan and a goal from Arif Shaikh sealed all three points, their first win away from home. Then came the D-Day where ARA FC welcomed Ambernath United Atlanta FC at the Shahibaug Police Ground. AUA FC were three points behind ARA FC and a win would do wonders for their chance to qualify for the final round. Ambernath found themselves 1-0 down in the 13th minute. Himanshu Patil equalized in the 21st minute. The scenario at this point was that ARA FC were on 18 points and AUA FC was on 15 points. As we looked set for a 1-1 draw, the clock stood still in the 96th minute, i.e. the sixth minute of added time when Shravan Shetty popped up to score the winner for Ambernath United Atlanta FC. The side from Maharashtra had created history, with this victory they tied ARA FC on points, 17 each. But courtesy of the head-to-head points they pipped ARA FC to claim top spot in Group D. 
Also as per the rules, since Group B had 4 teams, the results against fifth-placed teams in other groups would not be counted. Since Goa Reserves were bottom of Group D, ARA FC with six points less and AUA FC with four less still put AUA FC on 13 points and ARA FC on 11 points. That's two points clear at the top. In any case, Ambernath United Atlanta FC  were Group D winners and progressed through to the final round.
The journey that began on 19th March 2023 reached a satisfactory conclusion on 26th April 2023. 38 days, 8 matches, and a top spot in Group D was what Steven Dias' team had achieved. With their debut season well and truly on its way to fruition, Ambernath United Atlanta FC saw themselves progress to the final round of the Hero I-League 2.
We will discuss more about the final round in the next piece.
Join the Whatsapp group of Athletic India to keep yourself updated about Indian Football.