Jeje Lalpekhlua, known as the "Mizo Sniper," has recently announced his retirement from professional football. The 32-year-old Indian striker had been an integral part of the Indian team in the past decade, and his retirement marks the end of a successful and illustrious career.
Jeje started his professional career with Pune FC in 2009 in I-league second division and quickly established himself as a promising young talent. He then moved to Pailan Arrows, where he continued to hone his skills and improve his game. He finished as the top Indian goal scorer that season with 13 goals and won the FPAI Best Young Player Award for the 2010–11 season. He later returned to his parent club Pune FC and plied his trade there for 2 more seasons before switching to Goan giants Dempo SC. It wasn't long before Jeje caught the attention of Mohun Bagan scouts, and in 2014, he signed for the Mariners. At Mohun Bagan, he won I-league and Federation Cup and represented his club in continental competitions.
Jeje's international career started when he was called up to the Indian U-23 team for the Asian Games. Jeje's performance caught the attention of many, and he was soon called up to the senior Indian team. He made his debut for the senior Indian team in 2011 against Chinese Taipei and score his first goal for the country in the same match. From 2011 to 2019,  during his peak years, the Indian team won 28 matches out of the 54 they played. He formed a lethal strike partnership with Sunil and the duo amassed 75 goals in this period.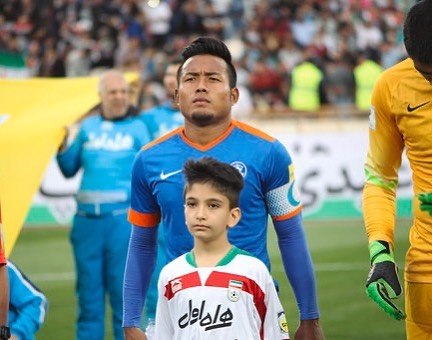 At Chennaiyin FC, where he joined on loan from Mohun Bagan for ISL, Jeje became a fan favorite and played a crucial role in the team's title-winning campaigns in 2015 and 2017. He formed a lethal partnership with Brazilian striker Stiven Mendoza and together they terrorized defenses across the league.
Throughout his career, Jeje was known for his clinical finishing and ability to score goals from anywhere on the pitch. He was the second-highest Indian goal scorer in the ISL with 24 goals, behind only Sunil Chhetri. He was also the first Indian striker to cement his place in an ISL club, and his success paved the way for many other Indian players to follow in his footsteps.
One of Jeje's most memorable moments came in a match against Kyrgyzstan at the Kanteerava Stadium. With the game tied at 0-0, Jeje provided a sublime chip ball assist to his teammate Sunil Chhetri, who buried the ball into the back of the net to secure a crucial win for the Indian national team. This moment will remain etched in the minds of Indian football fans forever and is a testament to Jeje's vision and skill as a player.
Despite his success on the pitch, Jeje's career was not without its challenges. Injuries and setbacks derailed his progress, and fans feel he retired prematurely. He played for East Bengal in their debut season in ISL (2020-2021), however, he couldn't make any impact with the Kolkata giants. Jeje's retirement is a bittersweet moment for Indian football fans. On the one hand, it marks the end of a wonderful career and the departure of one of the league's most beloved players. On the other hand, it is a moment to celebrate all that Jeje has achieved and to reflect on the positive impact he has had on Indian football.
The Listons, Manvirs, Panditas, etc. so far have been unable to fill the void left by Jeje. Jeje's peak time lasted for 9 years and no other striker other than Chhetri lasted for that long in Indian football in recent times.
As Jeje looks back on his career, he can be proud of everything he has accomplished. He has inspired a generation of young Indian footballers, and his legacy will live on for many years to come. We wish him all the best in his future endeavors and thank him for the memories he has given us over the years.
Join the Whatsapp group of Athletic India to keep yourself updated about Indian Football.