Spanish club Athletic Bilbao is unique in its recruitment policy as they choose only those who hail from the Basque region or have roots in Basque ethnicity. Despite restricting their player pool to a small region, Athletic Bilbao managed to stay afloat in La Liga and they are one of the three clubs to avoid relegation in the history of the Spanish top division. They have been running this successful model for more than a century and they enjoy excellent home support, courtesy of their recruitment strategy. Far from the Basque region, around 7,100 kilometers away at Sangam Vihar in Delhi, Sangam Vihar FC is making headlines for a similar recruitment policy and remarkable on-field performances.
Sangam Vihar is the largest unauthorized area in Asia with an area of 8.6 sq km. The residents of Sangam Vihar belong to the lower socio-economic status (daily wage workers) who struggle every day to make ends meet. Children of these workers are often forced to work during their school-age itself due to poverty.
In the year 2015, 6 alumni of "Teach for India" founded Khel Khel Mein (KKM) Foundation to expose children from low-income communities to sports and Sangam Vihar FC was formed in 2017 as a part of this initiative. Unlike other clubs, the purpose of SVFC was not to make a champion team but to nurture a football culture in the community. The founders envisaged a community in which kids go and play whenever they get time without any external stimulus. However, soon they realized that in India, culture follows success and on-field performance is crucial to attract kids to this program.
"Football is not a game of the elite class; it belongs to the common man. All we need is a ball to play. Here in India, on-field success is necessary even for a community-level initiative. Kids won't start playing if they don't see their predecessor's success. We had to go door to door to enroll girls in the initial year; the scenario is different after our team started winning accolades. Now, we are getting more attention within the community," said Arka Bhattacharya who is a part of the team behind SVFC.
Arka believes that clubs at the top tier may not bring a football culture to India. For that, we need community-oriented programs and SVFC is one example of that.
"Before attempting to change football in India or a state, we have to bring changes at the grassroots level. Big corporates invest in I-league and ISL clubs, nevertheless, our football landscape hasn't changed much. To improve the football ecosystem, we believe that our efforts need to go into the bottom-most level and we are doing exactly that," said Arka.
Patriarchy exists at all levels across all dimensions of our life and sports is no different. Females rarely get the chance or support to excel in sports even in well-to-do families, let alone in a slum. Notwithstanding that, SVFC started as a club for girls and majorly continues to be so.
"Women always enjoy lesser privileges as compared to their male counterparts. In a playing field, boys occupy all the spaces available and consequently, girls are hesitant to play in such atmospheres. The barriers are much higher for girls to practice and play. Call us naïve, but we want to bring equality to the playground because football belongs to the girls as well. Child marriage and child labour are prevalent in Sangam Vihar and the girls suffer the most because of these social malpractices. We wanted to give these girls a dream and purpose for their life. As they face struggles on a day-to-day basis, they have fire in their bellies necessary to succeed against all odds," Arka continued.
Sangam Vihar FC had modest funding in the initial years but then came the COVID pandemic. Meeting both ends became difficult for the owners and besides that, the pandemic forced a lot of families to withdraw their girls from sports.
"We had around 90 players before the pandemic and after that, it became 45. All the expenditure of this club is met from our pockets with a little help from our friends. We struggled to keep our head above water. Survival became extremely difficult as we were catering to four age group teams and we needed more funds. Nevertheless, our best results came during that period. We managed to secure promotion to Premier division from championship and played against the top teams of Delhi."
Football Delhi women's league is a two-tier competition; the Championship (2nd division) and Premier division. SVFC's participation in the 2nd division got delayed due to the COVID pandemic. They did participate in the next season under the aegis of Rangers SC and the squad's average age was 14 years. In the next season, SVFC topped the group and qualified for the Premier division.
"One session at a playing ground will cost 3,500 INR and we cannot afford such a huge fee. Hence, we found an alternative. We cleaned an area of dumping ground near the Ramlila maidan and we started our practice there. Every day, before our session, we would spend 30 minutes cleaning the garbage and cow dung from the area to make it suitable to play. Before the premier division, we had no single session at a proper football ground. We could win only one match out of the total 4 matches in the premier division."
Difficulties and challenges are part of the day-to-day proceedings of SVFC. However, in the premier division, the players learned a hard life lesson that they may remember for their life.
"In our 3rd match against Growing Stars FC, the 4th official overturned multiple decisions of the on-field referee and linesman. Later we found out that the 4th official was a former player and former team manager of Growing Stars FC. We requested an investigation but Football Delhi paid no heed. That incident left a deep scar in the minds of our players and they are yet to recover from it."
Sangam Vihar FC is not yet affiliated with Football Delhi as the registration process will cost 350,000 INR which is a significant chunk of their annual budget. Hence, they have to play under the banner of other registered clubs in the women's leagues.
"Why should we pay such a huge amount? 25% of the last two sub-junior and junior teams of Delhi come from our set-up. Our 4 players have been selected for the Delhi U-17 squad. According to the Central Registration System, we were the youngest team in any top-tier state league across the country, men or women, with an average age of 15.2 last season. We have the sporting merit."
Unlike other clubs, SVFC operates 12 months a year. The plan is to give maximum game time to the players. After the women's league, they participate in local leagues of junior boys and play friendlies against male academy teams. They even went on to play a veteran's tournament to keep their players engaged. On numerous occasions, they have defeated their male compeers.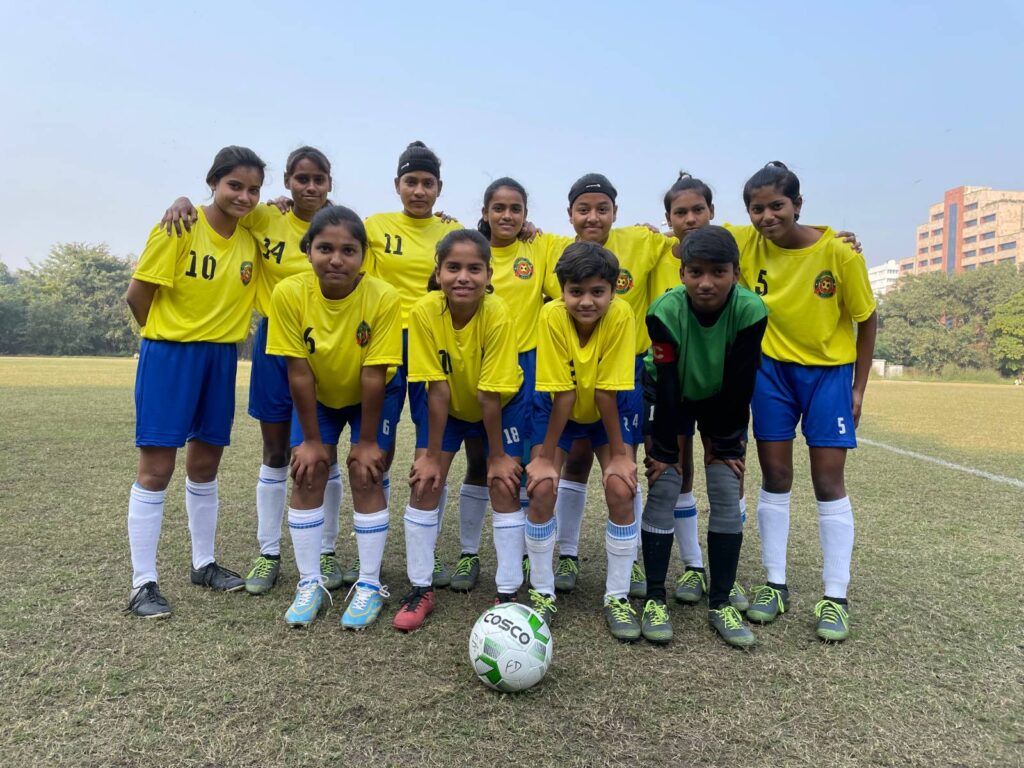 "Our players have good football intelligence. They stick to the philosophy of an attractive passing game and they don't play the kick-and-run game. They are still in their teens and haven't yet attained 50% of their potential. Our dream is to win the national league title with a team consisting completely of Sangam Vihar girls. I know some of them will eventually play for the Indian national team".
SVFC discontinued their association with Rangers SC after last season as their officials made rude remarks about the upbringing and physique of the girls. This year, SVFC girls are playing under the patronage of Delhi FC in the championship. At the time of publishing, they have won their first match 19-0 and have received a 3-0 walkover in their second.
Join the Whatsapp group of Athletic India to keep yourself updated about Indian Football.