An average football player reaches the peak of their career at around 28 years of age. However, in Anthony's case, it was his coaching career that peaked at the age of 28. The lad from Maharashtra, who holds an AFC A Diploma, has 13 years of coaching experience and guided Gokulam Kerala to their third consecutive title in the Indian Women's League.
"I started my journey as a coach by training small kids at PIFA. Later, I was promoted to youth teams and elite teams. Then, I got the opportunity to work at Minerva Punjab, which was a turning point in my career. I worked with their youth and senior teams, and during that period, Minerva Punjab was the champion across all age category tournaments."
Just like any other football-loving lad, Mr. Andrews also wanted to try his luck as a player. Nonetheless, the two ACL injuries at the age of 17 years forced him to take the hard decision to switch his career. 
As he is young, throughout his career, he managed players who were senior to him, but he never faced any trouble from them.
"I have been very fortunate in that aspect. All the players I worked with have been very professional. I believe that if I do my homework and give my best to the team, they will respect me, regardless of my age. Never in my coaching career have I faced such a problem."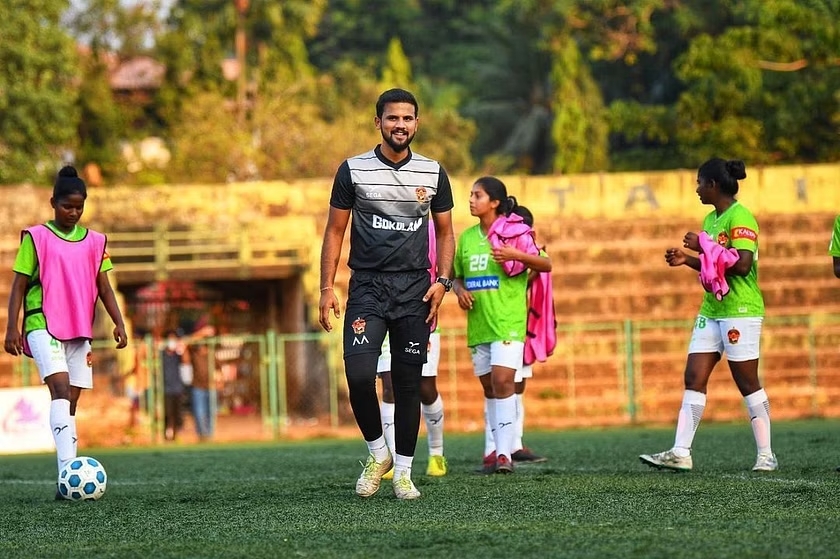 Before joining Gokulam Kerala, Anthony worked at ARA FC and Rebels FC after his tenure at Minerva Punjab. However, it was his stint at Gokulam Kerala that brought him fame in football circles. He started off as an assistant coach for the women's team and later guided the team to victory in the Kerala Women's League as the head coach. The KWL title encouraged the management to promote him as the head coach of the women's senior team, and he didn't disappoint them. He won back-to-back IWL titles with the team and repaid their faith.
"Coaching the women's team was a different kind of challenge. I was brought in as an assistant coach for the AFC Championship. Mrs. Priya was the head coach then. It was a team full of players with huge potential, and I understood that I could implement my plans here as I had great players at my disposal."
Indian women's football is going through a transition phase right now. We have a national league, even though it is still in a rudimentary state compared to the men's league. As part of improving players' income, the AIFF recently announced a rule mandating clubs to give professional contracts of 3.2 lakhs per annum to 10 players. However, the decision faced backlash from the clubs.
"In my opinion, the players deserve that amount. The average cost of a good boot is around 5,000 INR, and the players need to spend on their diet as well. So, if they are earning five to ten thousand a month, then they won't be able to make both ends meet. However, I am still doubtful whether it is financially possible for all IWL clubs to meet the criteria or not. They will have to spend around 40 lakhs for salaries alone if they give contracts worth 3.2 lakhs to 10 players. Additionally, the teams have to spend on travel and accommodation as well. Not many clubs in the IWL have such deep pockets."
Anthony also worked as an assistant coach for Gokulam Kerala's men's team this season. Despite being the defending champions and having a good group of players at their disposal, Gokulam struggled this season.
"We didn't do anything fundamentally wrong. It's just that a team can't win every season in a closely contested tournament. Everyone on the team did their part; however, unfortunately, the results weren't in our favor. In the match against Real Kashmir, we created so many opportunities, but we couldn't score. The same happened in a few other matches as well. However, we are determined to change it next season."
When asked about Kerala Blasters' decision to temporarily close their women's team, Anthony had this to say:
"Kerala Blasters did a fantastic job in recruiting players, and their team was formidable. For the first time in KWL history, there was a match with so much hype (Gokulam Kerala vs KBFC). I was stunned when I came to know about the news that Blasters are shutting down their women's team operations. They appeared to be very professional in their approach. I don't think it will cost them much, considering they spend crores for their men's team. What will happen to their players? Where will they go now? We need more teams for our ladies. I sincerely hope they will reconsider their decision."
Even though he has achieved numerous victories and titles in his career so far, Anthony doesn't want to take his foot off the pedal. His ambitions are on a grander scale, surpassing the ordinary. He aspires to achieve greater heights and set his sights on larger goals.
"My dream is to work with the national team and develop more players for the country. I would like to provide the next generation of players with the knowledge that I lacked as a player."
This interview was conducted 2 weeks back on the 3rd of July. On July 13th, it was announced in the social media handles of the AIFF that the technical committee of the AIFF decided to recommend Anthony Andrews for the post of Head Coach of the Senior Women's National Team.
Join the Whatsapp group of Athletic India to keep yourself updated about Indian Football.