Climbing up from the bottom divisions to reach the top tier is a massive task in Indian football, especially without corporate support. However, a club from Mumbai is undaunted by the unfavorable football atmosphere and is optimistic that they will reach the I-league one day. Mumbai Marines FC, a club that was formed overnight by a group of 3 sports enthusiasts, is creating ripples in the Mumbai football circuit for all good reasons. They managed to climb from 3rd Division (5th tier of Mumbai football pyramid) to Mumbai Super Division (2nd tier) within 4 seasons and they did it on a shoe-string budget.
There are around 300 football clubs in Mumbai across 5 divisions and countless more which play rink football. Around 50,000 people play football in the city of which around 10,000 are registered. Mumbai once had their representative in I-league in the form of Mumbai FC. Mumbai FC ran their operations for 10 years and they had a fan club (Yellow Brigade) in which Sachim Karekar (co-founder of Mumbai Mariners FC) was a member. Athletic India had the opportunity to talk with Sachim and the excerpts of the interview is given below.
"I was a member of Yellow Brigade (fan club of Mumbai FC) and we saw the rise as well as the collapse of Mumbai FC up close. Also, I was a part of a sports firm that ran the media operations of Mumbai FC. So, we knew the potential problems that a football club (in India) can face. Members of Yellow Brigade were emotionally connected with the club and many of us cried on the last match day of Mumbai FC. We didn't have the fan power of Kerala Blasters or Mohun Bagan but we were a group that had deep feelings for the club. You can say, Mumbai FC folding their operations stimulated us to start a new club", Sachim said.
It would not be wrong to say that Mumbai Marines were formed overnight. The owners (Sachim Karekar, Aakash Malvankar, and Vishal Patel) registered the club on the last day of the registration window to play 3rd division. Even though the club was formed in a matter of a few hours, the people behind the scenes knew the business.
"We were conducting a board meeting of our company and discussing the future plans. Then one of my partners said that tomorrow was the last day to register teams in the 3rd division (5th tier in Mumbai football pyramid) and we might have to play qualifiers to get even into the 3rd Division from next season. In the next few hours, we debated the pros and cons of running a club. It is a no-brainer that a sports media company like us would want to run a club and we had the experience of working with multiple clubs as well. We knew that someday we would start a club. We quickly prepared all the necessary documents, got ourselves registered, and arranged the entry fee for the tournament", Sachim continued.
As the club was formed at the last moment, Mumbai Marines were underprepared for their first season. In fact, they didn't have their jerseys printed for their first game. However, there was no lack of fighting spirit and dedication. Mumbai Marines finished fourth (in the group) in their first ever campaign and they never looked back after that. In the 2018-19 season, MMFC reached the round of 16 and qualified for the second division. Their hard work continued to pay dividends as they topped the group and reached the finals in the next season (2019-20), and secured their second consecutive promotion. However, the COVID pandemic brought a temporary halt to their progress as the first division league didn't happen. Once the normalcy resumed, football activities were restarted in Mumbai and Mumbai Mariners continued their ascend by finishing fourth in the first division (2021-22) placing themselves in the Super Division. Even in world football, three promotions in three seasons is a rarity and that speaks volumes about the hard work and dedication of the team.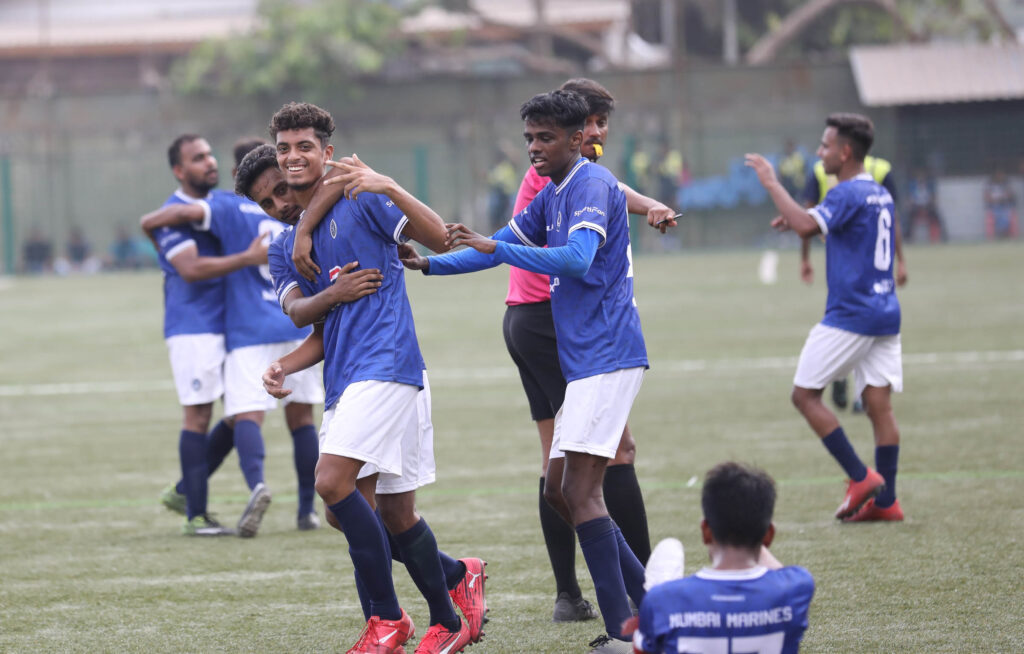 "We recruited players from the existing football ecosystem of Mumbai. Shreyas More and Atul Basutkar, two players who have been with us from the first season, also helped us a lot in terms of player recruitment. We could enlist players from local tournaments as we always had an eye there. Deepak sir (Deepak Kamble, goal-keeping coach of Kenkre FC) has always been with us and guided us a lot in running the club".
Almost a dozen top-tier shut down in the last 15 years due to no financial returns and lack of a proper roadmap. Nevertheless, the management of Mumbai Mariners took a bold decision to form a club, with an intent to progress from the bottom-most tier of Indian football, despite having first-hand knowledge about the failures of multiple football clubs in India to sustain over a long period. The idea was to set an example for other clubs that progress is possible even from the bottommost division if there is proper planning.
"We started this club for the love of the game and we want to create a journey for ourselves. We wanted to set a precedent for other clubs that even if you start with tiny budgets, you can still do a lot. Our social media handles are active and keep all our fans updated about our activities. We get a lot of orders for our jerseys and we will soon launch our online store. We have received orders for our jerseys from foreign countries like U.K, U.S.A, and U.A.E and we have fulfilled all those orders".
The ambitions of Mumbai Marines are not limited to securing a spot in I-league. According to Sachim, Mumbai Marines FC have plans to establish an academy, various age category teams, and women's teams once they acquire better financial strength.
"We are planning to start our academy soon. We also want to commence the operations of our women's team. However, as we run on a limited budget, we will take one step at a time. There is no purpose in starting a women's team just for name's sake. We want to do justice to that team as well. Therefore, our women's team will be launched once we feel that we can give the same level of care that we give to our men's team.
We want our players to develop and we will be more than happy if top-tier clubs sign our players. We have an open mind and we don't restrict our players if they wish to move to a club of the top tier. However, a lot of players continue with us because they believe in our philosophy and they find value in us".
Mumbai Marines FC will begin their campaign in Super Division next month and they don't want to take their foot off the pedal till they secure a spot in the country's top division.
Join the Whatsapp group of Athletic India to keep yourself updated about Indian Football.